This past year our church members sponsored five students so they could attend school.  
If you would like more information on this humanitarian project go to:
https://www.impact-hope.org/aboutus/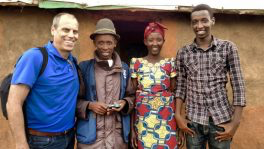 Impact Hope Now
We are honored to be part of this program and are grateful to the country of Rwanda, the UN, and ADRA Rwanda for working with Impact Hope in the support of sending refugee students to what are now four different boarding academies in Rwanda.
We believe that all should have this opportunity for education, and it is by God's grace that this program began and flourished.
For just $600 ($50 a month!), a child can attend boarding academy for an entire school year. This is our continuing fundraising mission.
Aside from facilitating sponsorship to these refugee students, we spend time onsite at these camps, getting to know the kids we hope to sponsor and finding additional ways to meet their needs. It is a powerful experience to see such strength and determination in these refugees, despite their challenging, poverty-stricken environment. God is definitely at work here!
https://www.impact-hope.org/aboutus/